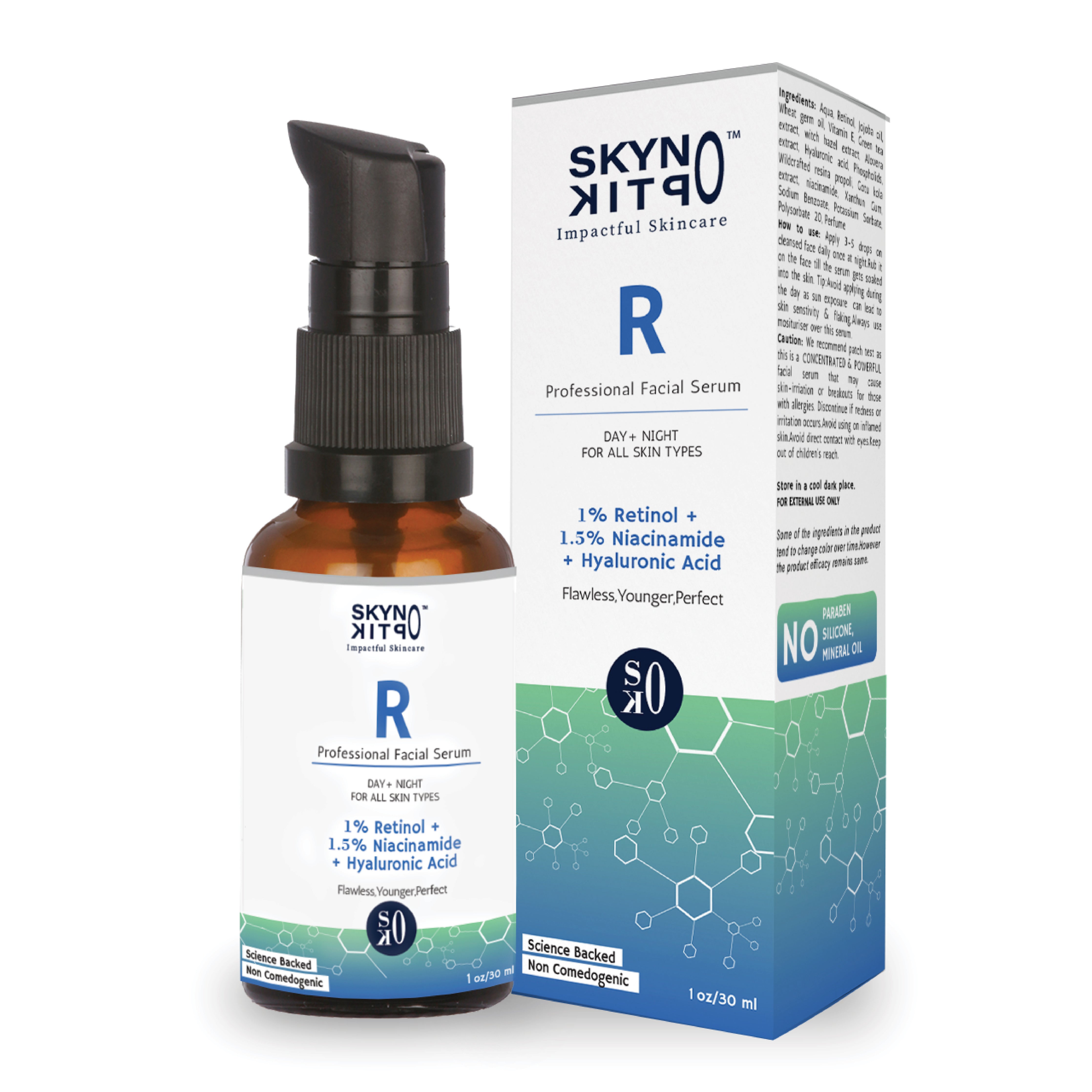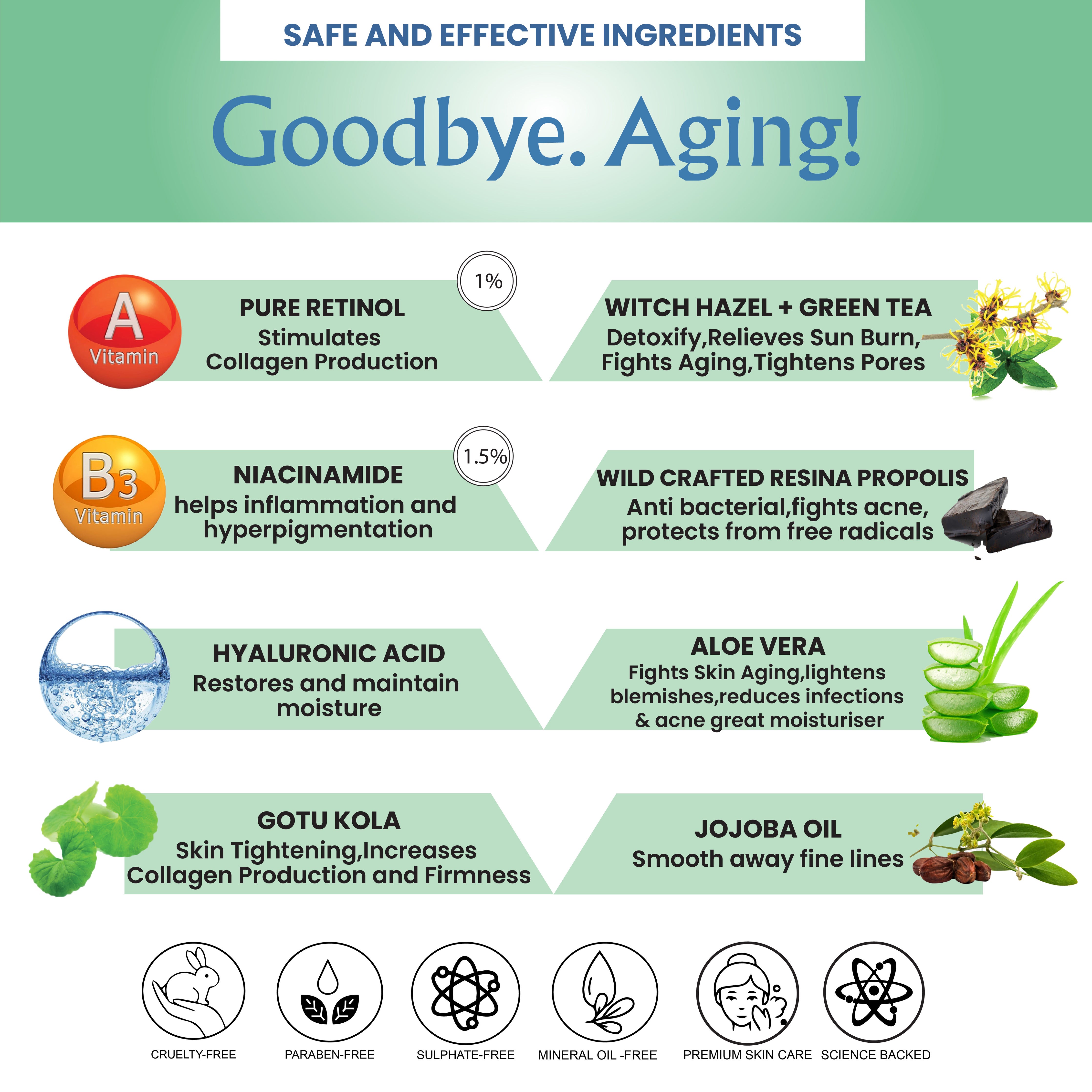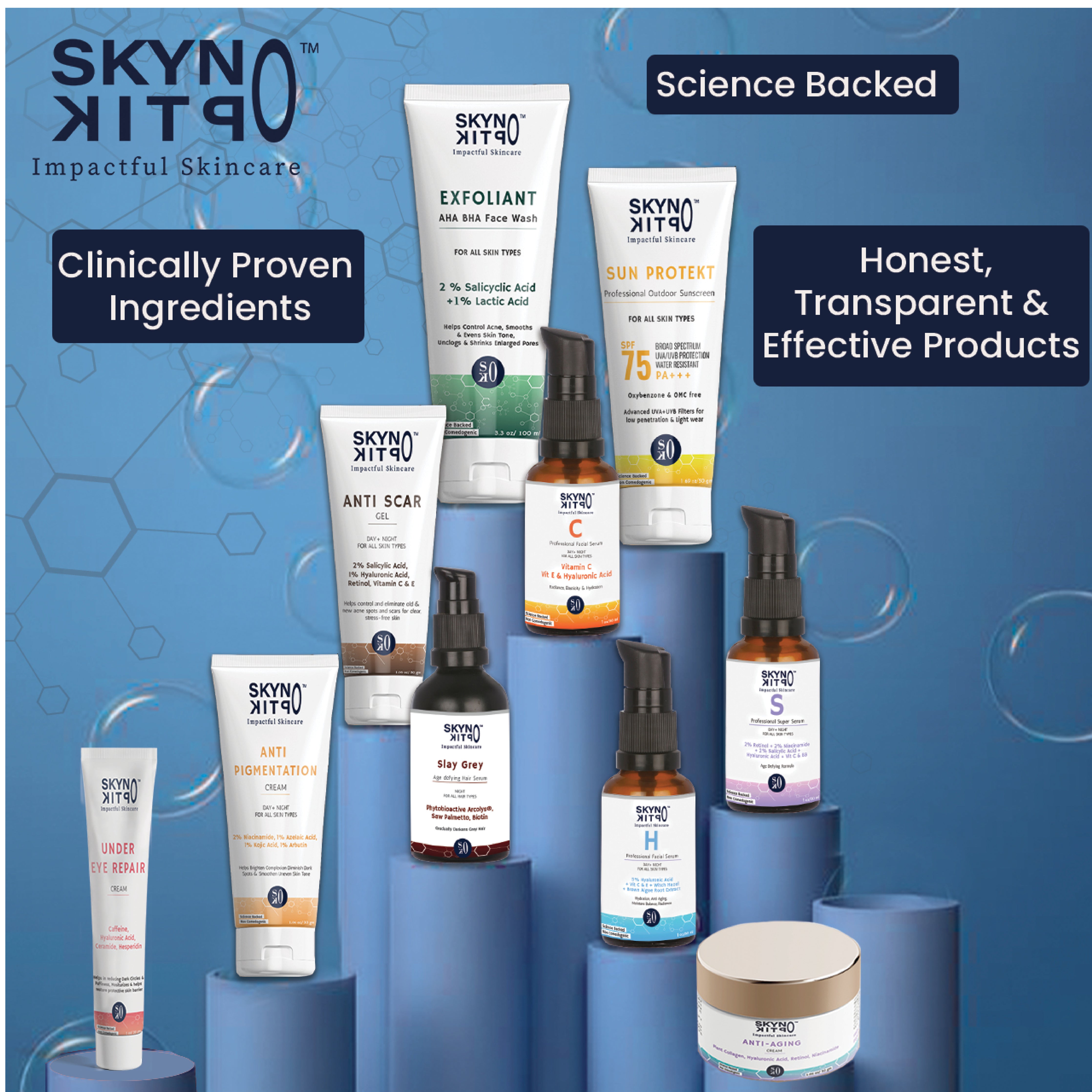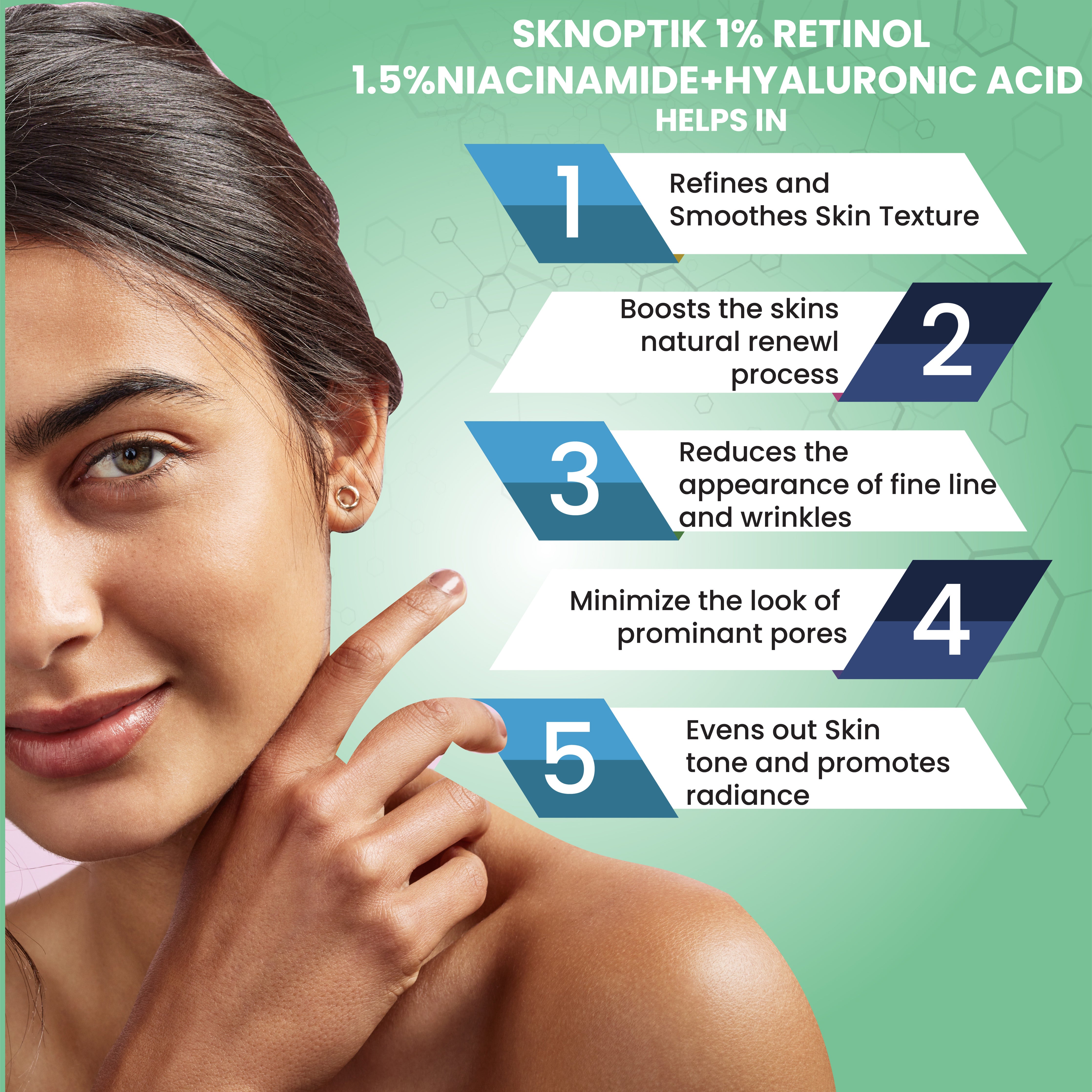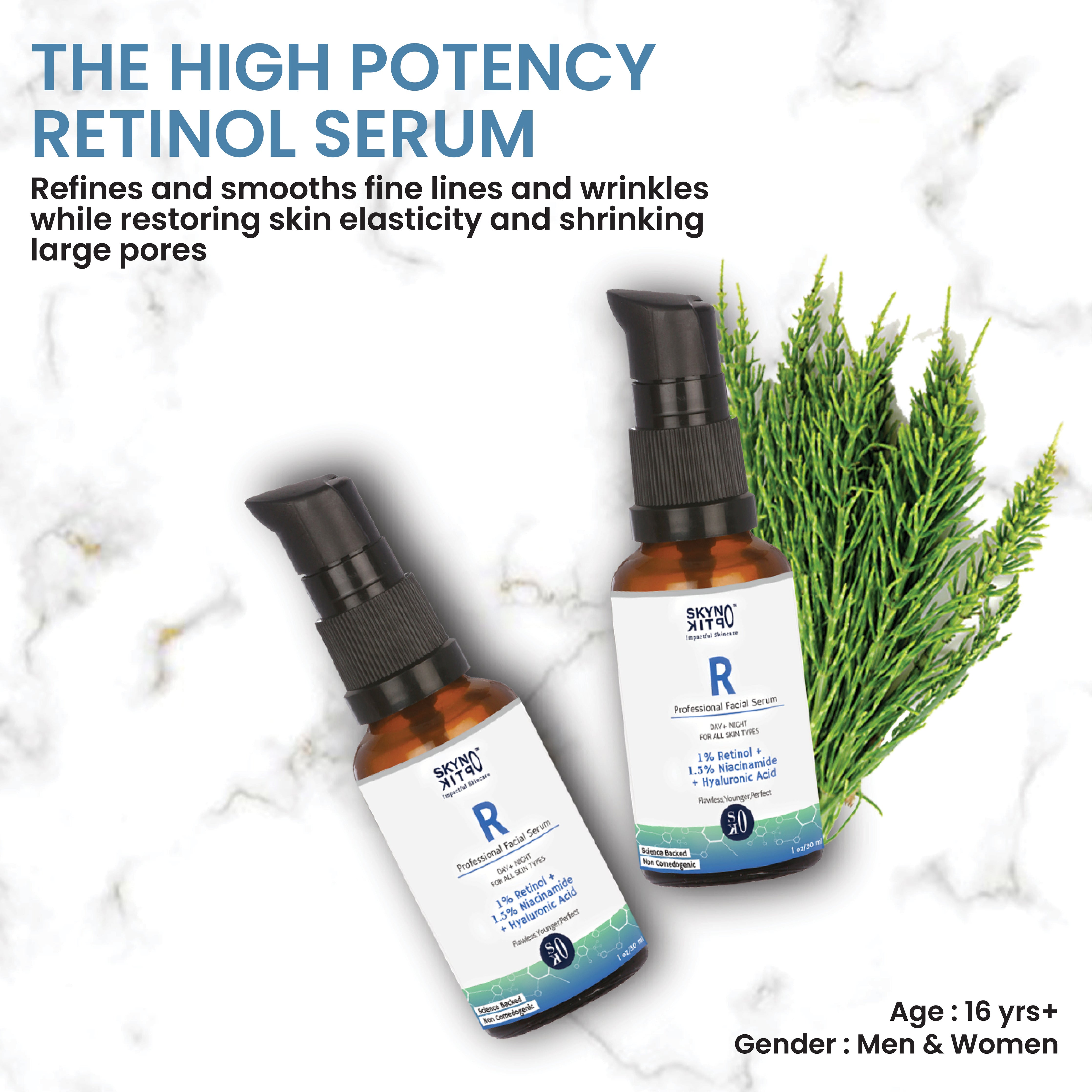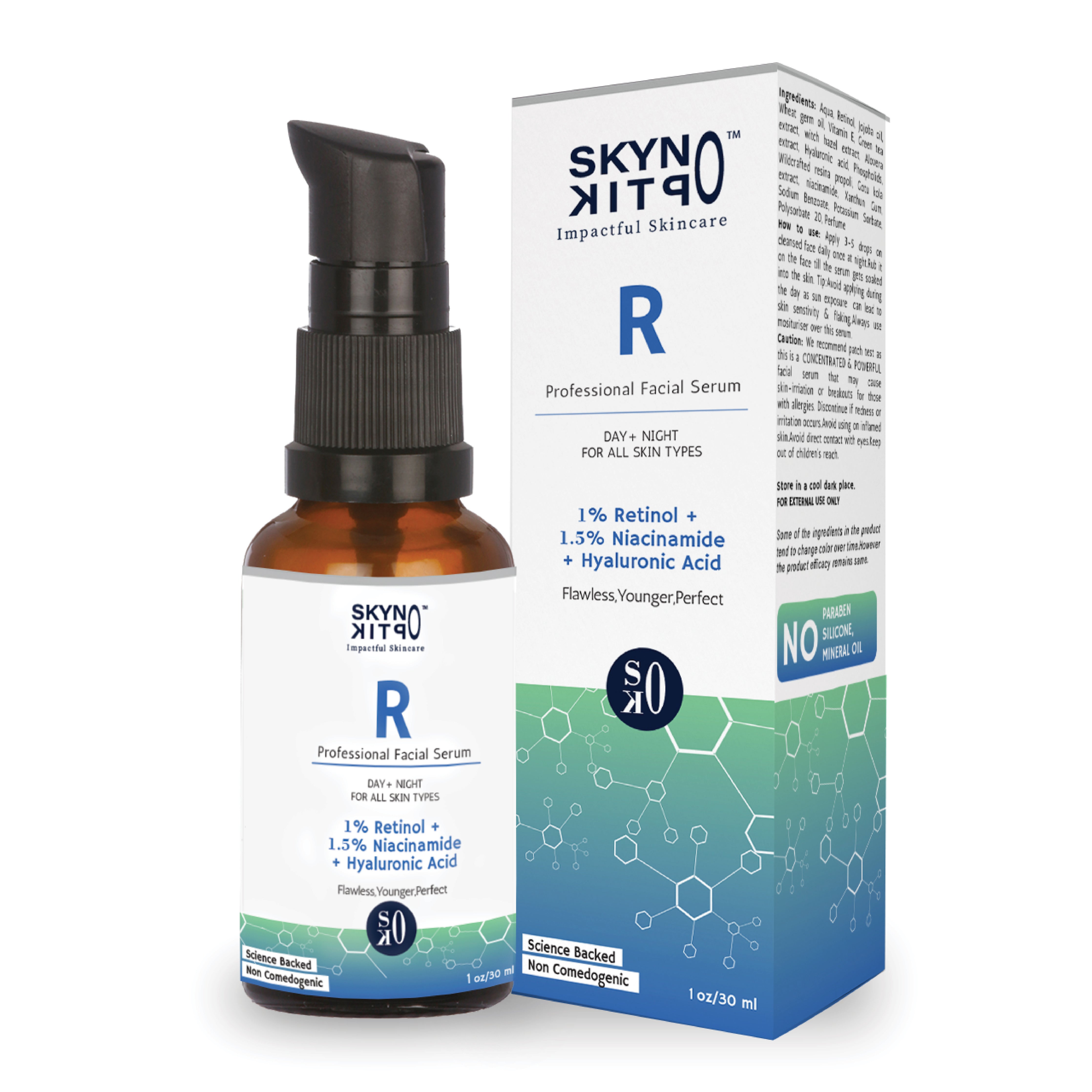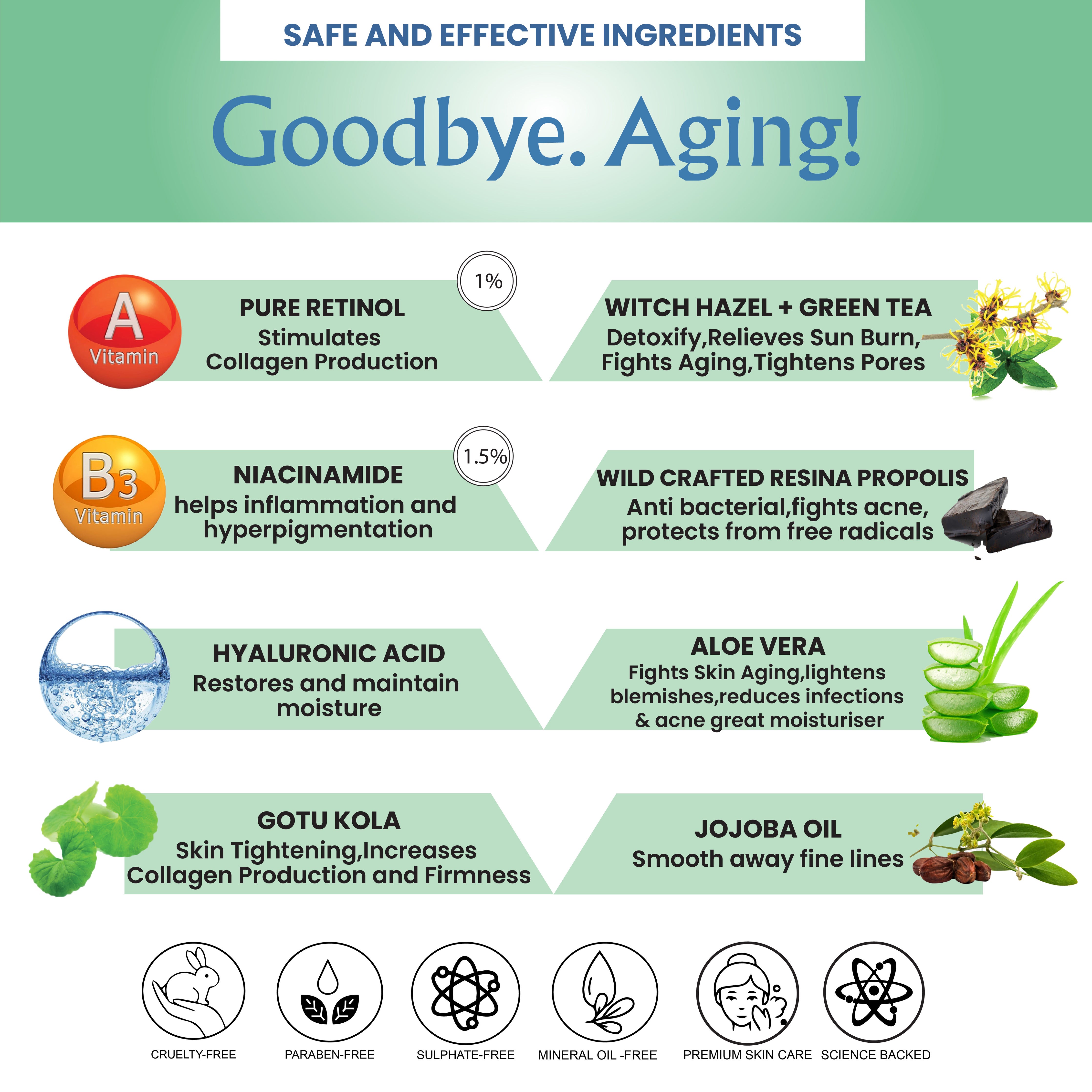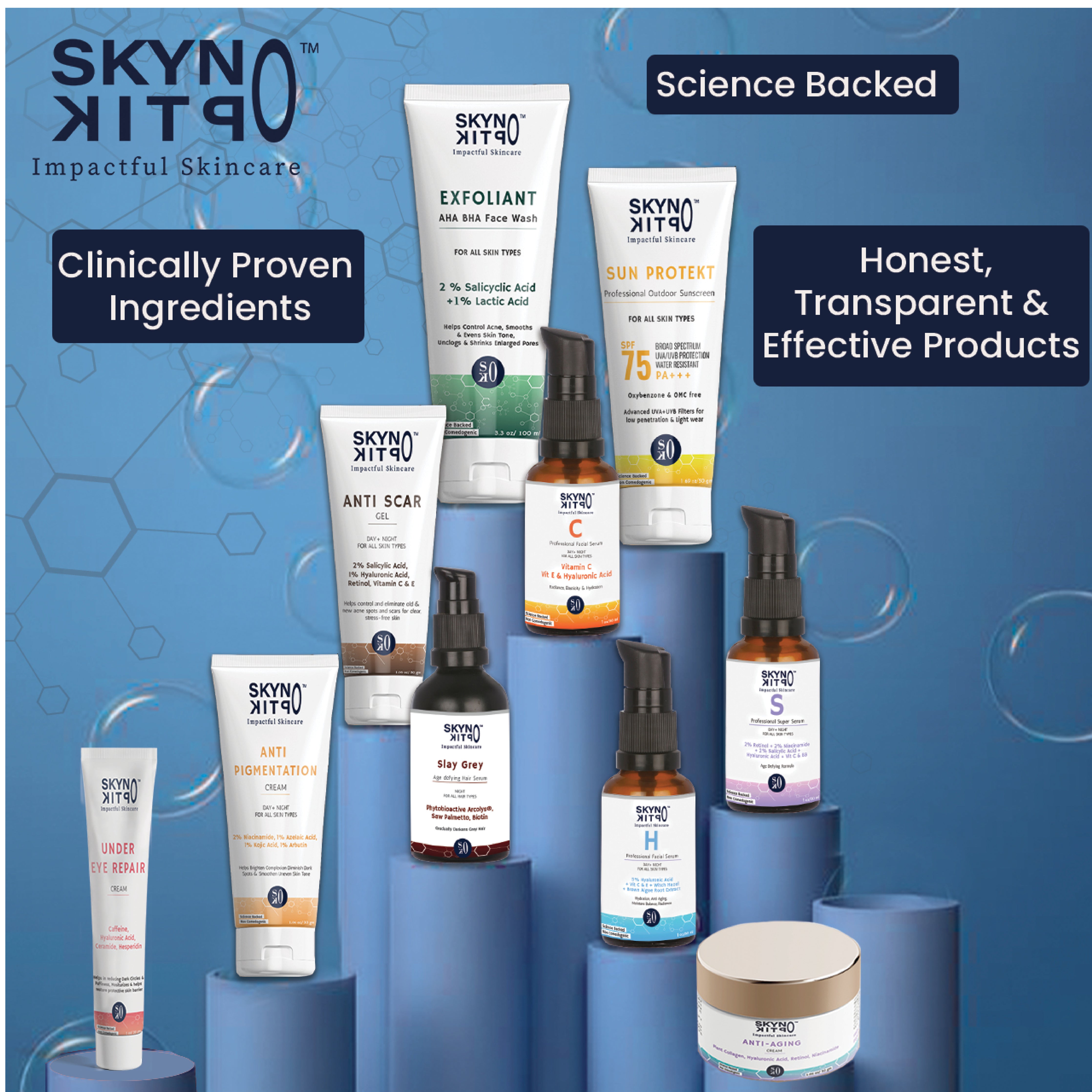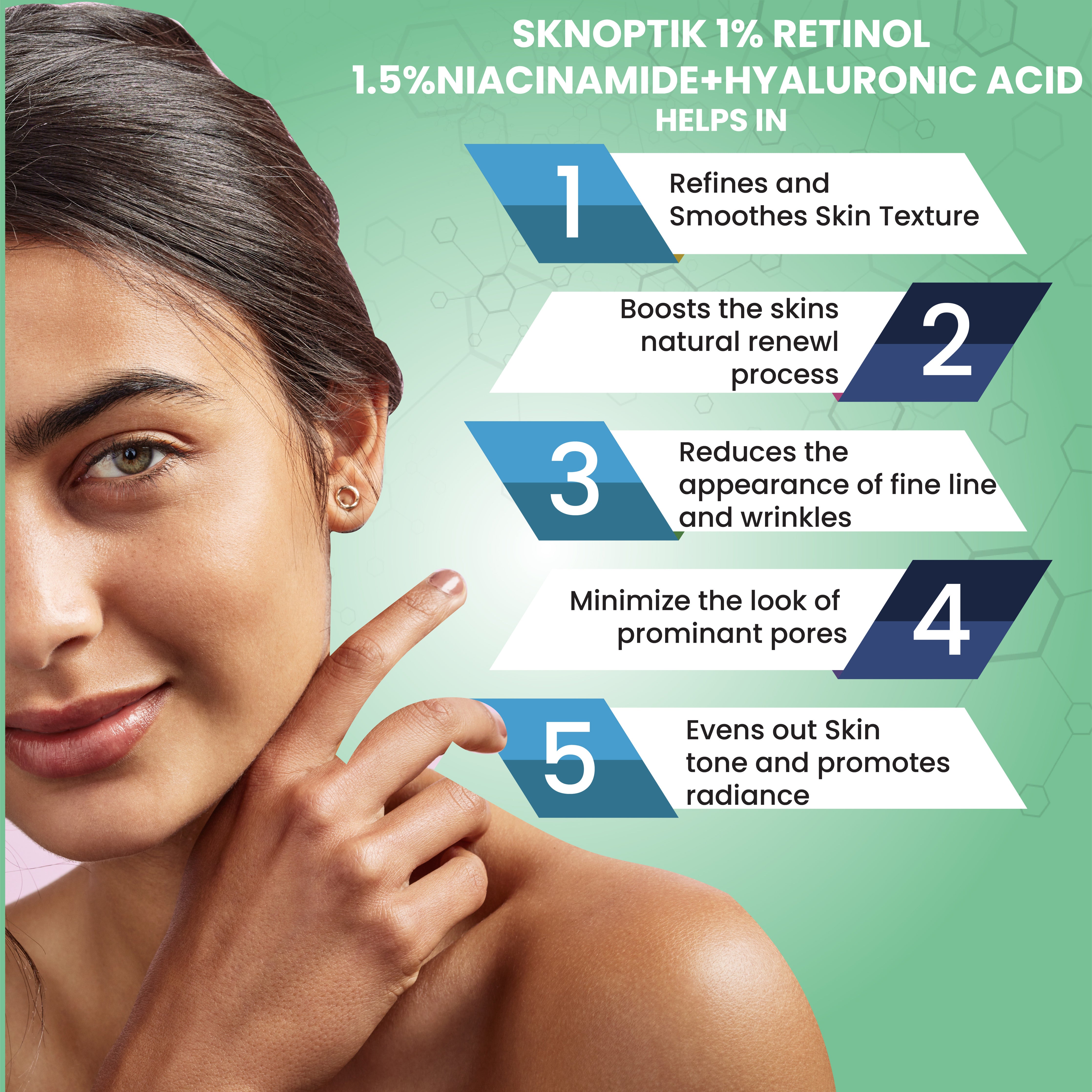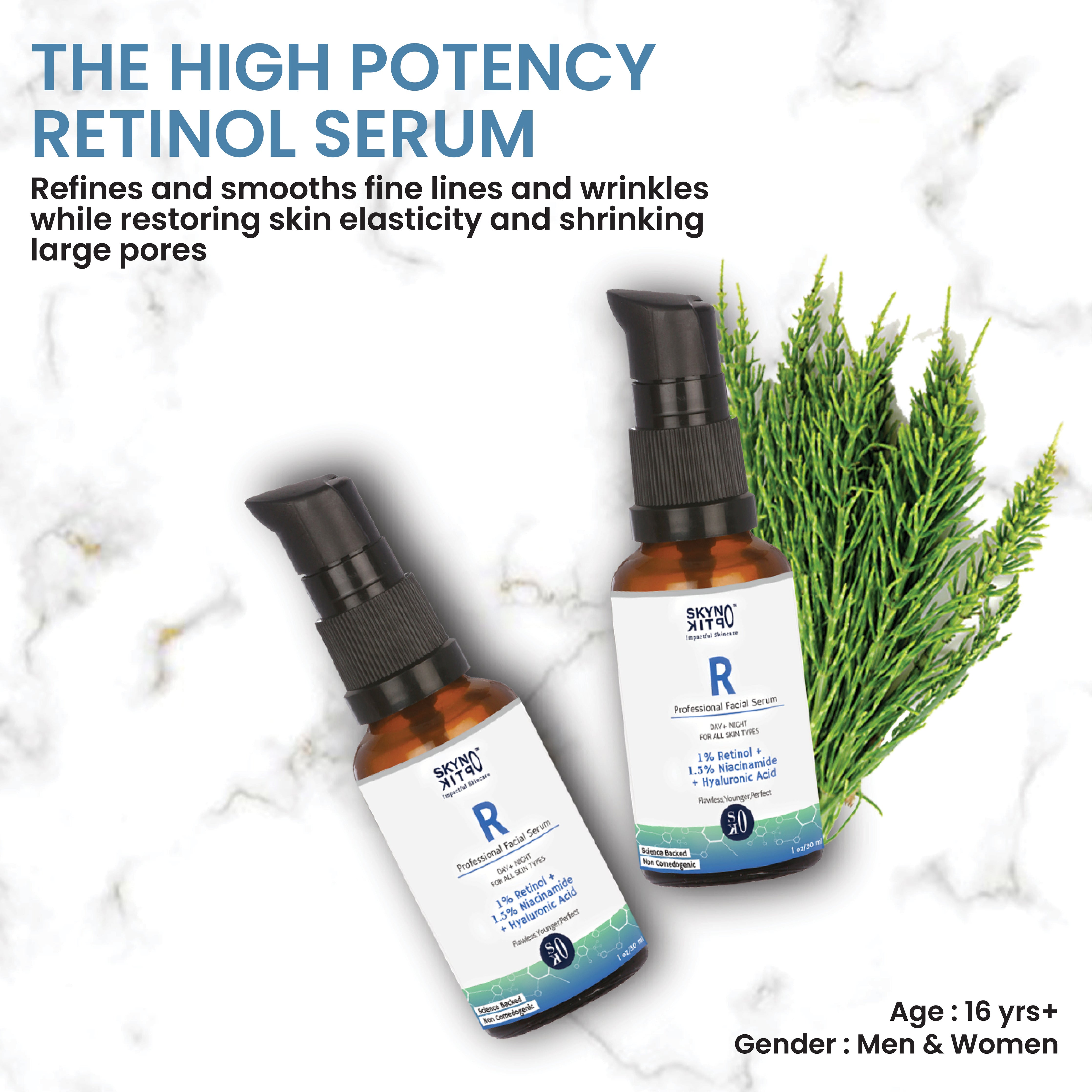 SKynoptik Retinol Serum
For all skin types, clinically proven ingredients
SkynOptik brings to you Retinol face serum that is enriched with Niacinamide and Hyaluronic Acid to help give your skin a youthful glow and an even skin texture that it deserves. This serum will help boost your skin's natural renewal process and help prevent it from further damages.
Real time Visitor right now
SkynOptik 1% Retinol Serum for Face with 1.5% Niacinamide,Hyaluronic Acid,Gotu Kola,Witch Hazel & Green Tea -Anti Aging Serum Face Moisturizer & Restorer – Concentrated Serum for Younger Looking Skin-30ml.
All SkynOptik products are skillfully developed based on pioneering health and beauty science and cutting-edge technology. We pride ourselves in our ability to deliver products made from the best ingredients, resulting in a line of innovative, market-proven professional-grade serums, creams, sunscreen & face wash. Powerful, yet supremely gentle to the skin, all of our products have a pleasant, fragrant scent and a uniquely smooth texture.
One of the most bio-available non-prescription forms of retinol, this high potency advanced formula refines and smooths fine lines and wrinkles, while restoring skin elasticity and shrinking large pores
Antioxidant powerhouse ingredients like Gotu Kola, Witch Hazel, Green Tea, and vitamin E fight the effects of skin damage including hyperpigmentation, sun damage, and dark spots
Hyaluronic acid works as a powerful moisturizing ingredient to retain up to 1,000 times its weight in water, drawing vital moisture to dry skin and visibly plumping and reducing wrinkles
Enjoy first-class customer service along with "Impactful Skincare," and discover how men and women across the world are recapturing their youth.
All SkynOptik products are skillfully developed based on pioneering health and beauty science and cutting-edge technology. We pride ourselves in our ability to deliver products made from the best ingredients, resulting in a line of innovative, market-proven professional grade serums, creams, sunscreen & face wash. Powerful, yet supremely gentle to the skin, all of our products have a pleasant, fragrant scent and a uniquely smooth texture. 1. SkynOptik Slay Grey Serum is formulated with clinically proven ingredients that help to naturally darken the hair over time. 2.The Slay grey gel is infused with Phytobioactive Arcolys®. 3. It helps restores natural hair colour, reduces oxidative stress in hair follicle cells improving antioxidant defense by limiting hair greying. 4. Other ingredients – Saw Palmetto and Biotin. 5. Good for all hair types! Everyone can use it! 6. Use high-quality products, from the stable of SkynOptik , to take care of your skin. Be assured that you will have the best possible results! Weight- 150 g ( including content and packaging) Dimensions- 12.5 × 4.1 × 4.1 cm (single pack)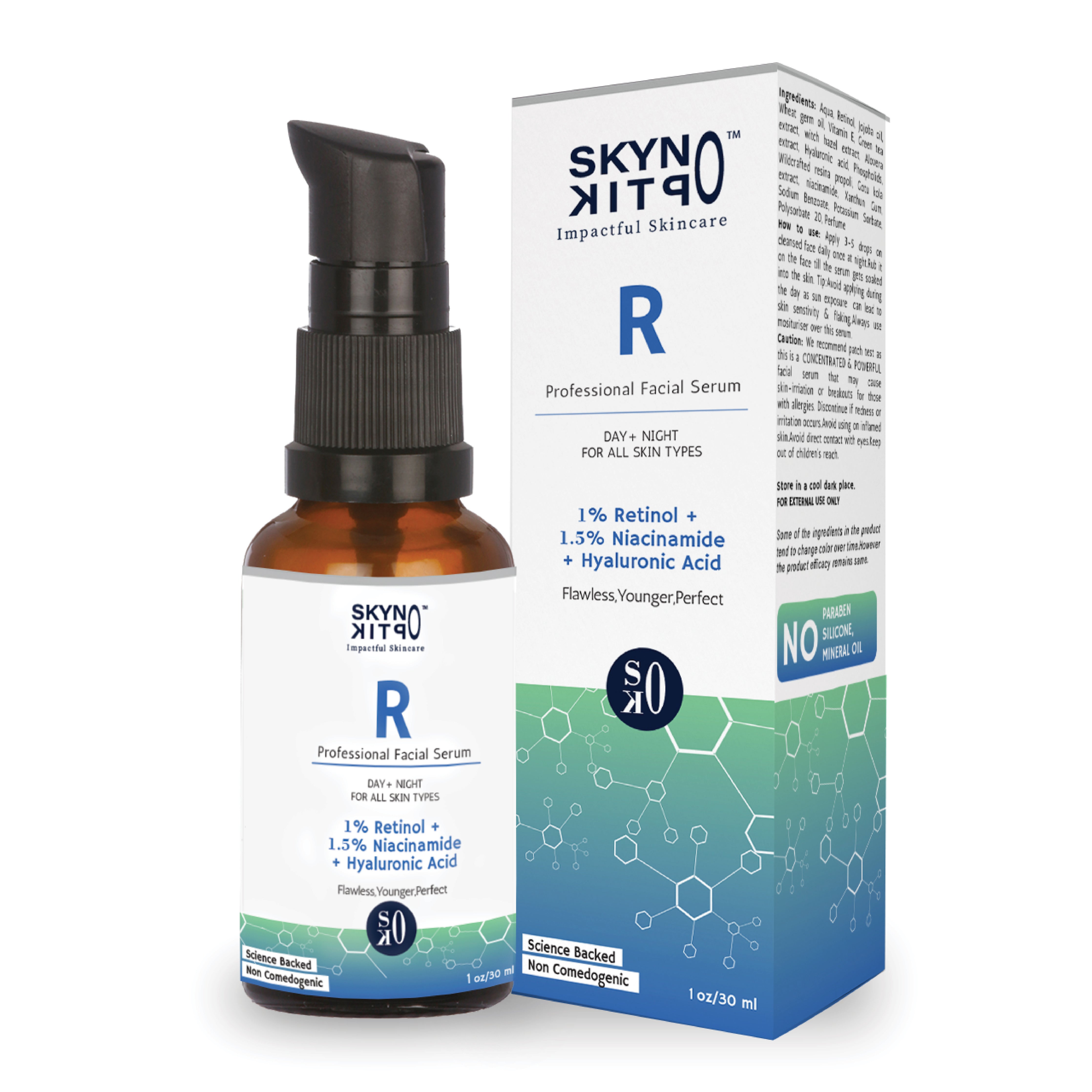 SKynoptik Retinol Serum
Rs. 850