SUPER SERUM: Discover the Power of Skynoptik's Absolute Essence for Glowing Skin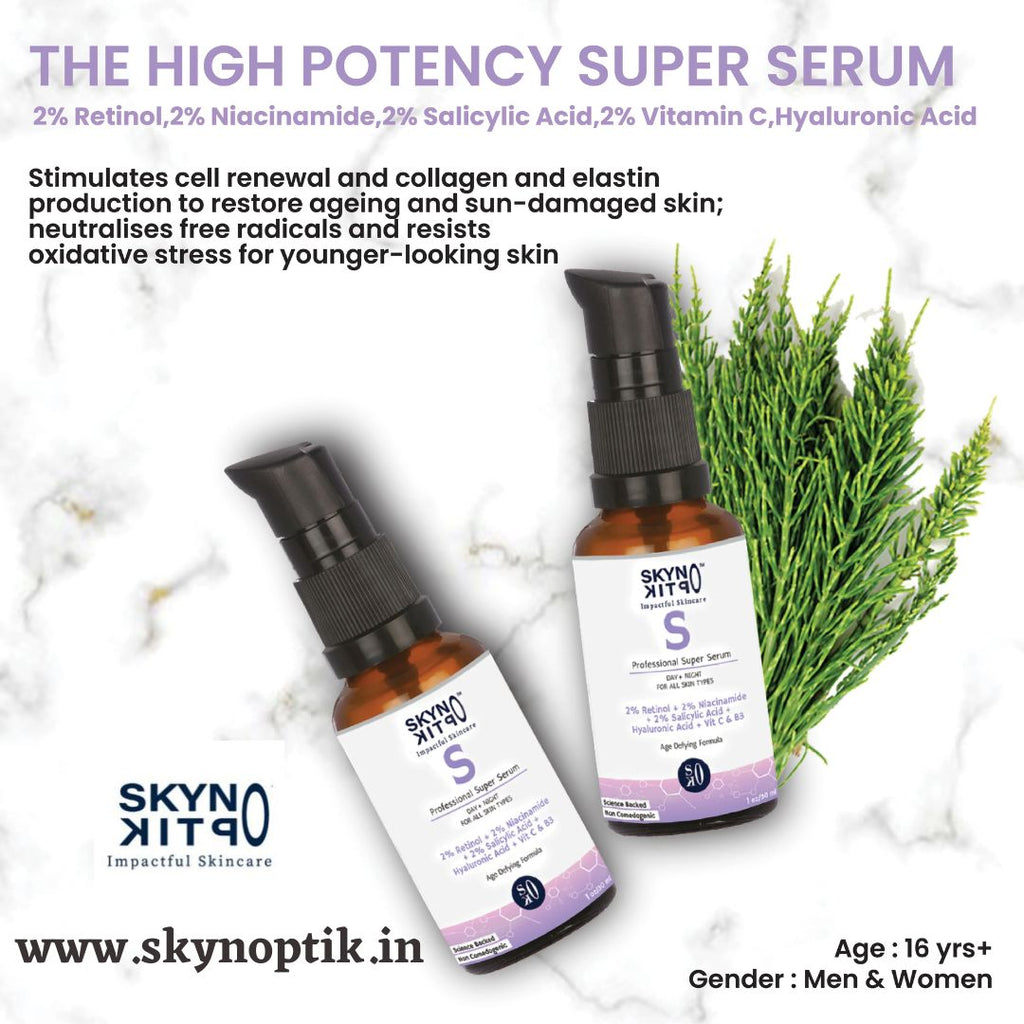 Introduction: Skynoptik's
Super Serum
for the Face is a luxurious treat.
When it comes to skincare, one product stands above the rest: the Skin Serum. This delicious elixir has grabbed the hearts of beauty fans all around the world due to its transformational effects. Today, we welcome you to be enchanted by Skynoptik's Super Serum, a genuine jewel among skincare gems.
Unleash the Power of Skynoptik's
Super Serum
: A Skincare Gift
The Serum for Face, an essential ally in creating a beautiful complexion, is found inside the domain of skincare magic. Skynoptik's Serum for Face exceeds all expectations by providing an unparalleled injection of nutrients directly to your skin. This serum, created with precision and cutting-edge technology, reveals a brilliant metamorphosis. It is a concentrated potion of brightness, containing plant extracts, antioxidants, and strong vitamins.
Skynoptik's
Super Serum
will provide nourishment and hydration to your skin.
Enter the world of Skynoptik's Super Serum and discover the pinnacle of nourishment and hydration. This elixir penetrates deep into your skin, eliminating dryness and dehydration, and leaving it plump, supple, and delightfully touchable. As your complexion develops under the care of this supercharged serum, you'll notice a revival of vitality.
With Skynoptik's
Super Serum
, you can embark on a journey to flawlessness.
Skynoptik's Super Skin Serum provides more than just nourishment and hydration. Its innovative composition addresses a wide range of skin issues, from dullness to hyperpigmentation. This remarkable elixir increases collagen formation, so dramatically minimizing the appearance of fine lines and wrinkles. Say goodbye to blemishes and dark spots as they melt away under the serum's strong combination of brightening ingredients.
Skynoptik's
Super Serum
will bring out your inner radiance.
Prepare to be amazed when Skynoptik's Serum for Face reveals your skin's inherent brightness. Your confidence and allure soar to new heights as your complexion emits a bewitching glow. This unique serum works relentlessly to restore your skin's young radiance, leaving it looking bright and healthy. Allow Skynoptik's Super Serum to showcase the captivating beauty that is inside you.
Skynoptik: A Brand Name Associated with Skincare Excellence
Skynoptik is an unrivaled name in the world of skincare. Renowned for their drive to innovation and perfection, the development of their Super Serum is proof of their commitment. Skynoptik exhibits its commitment to creating items that make a major difference in people's lives with each bottle. Enhance your skincare regimen with Skynoptik's Skin Serum and revel in the allure of beautiful skin.
Accept Skynoptik's
Super Serum's
Enchantment
Are you ready to go on a life-changing adventure to beautiful skin? Allow Skynoptik's Skin Serum to be your secret weapon in your quest for a glowing complexion. Unleash the power of this exquisite skin serum to reveal your skin's real potential. Prepare to be enchanted as Skynoptik's Serum for Face whisks you away on an incredible journey to skin perfection. Embrace the brightness, the charm, and the attraction of Skynoptik's Super Serum.
Conclusion
Skynoptik's Super Serum is the pinnacle of elegance and efficacy in skincare. This serum defies typical skincare limits with its innovative formulation and drives to perfection, producing surprising benefits for your complexion. This elixir actually works miracles, from feeding and moisturizing the skin to addressing numerous ailments such as dullness, hyperpigmentation, fine lines, and wrinkles.
So, accept the enchantment and revel in Skynoptik's
Serum
for Face
magic. Allow this remarkable elixir to change your skin care regimen and take your complexion to new heights. Embrace the fascination of Skynoptik's Super Serum and unleash the power of perfect skin. Your glowing and revitalized complexion is waiting to enchant the world with its obvious beauty.