Skynoptik Best Vitamin C Serum: Where Science Meets Beauty and Glowing Skin Becomes a Reality.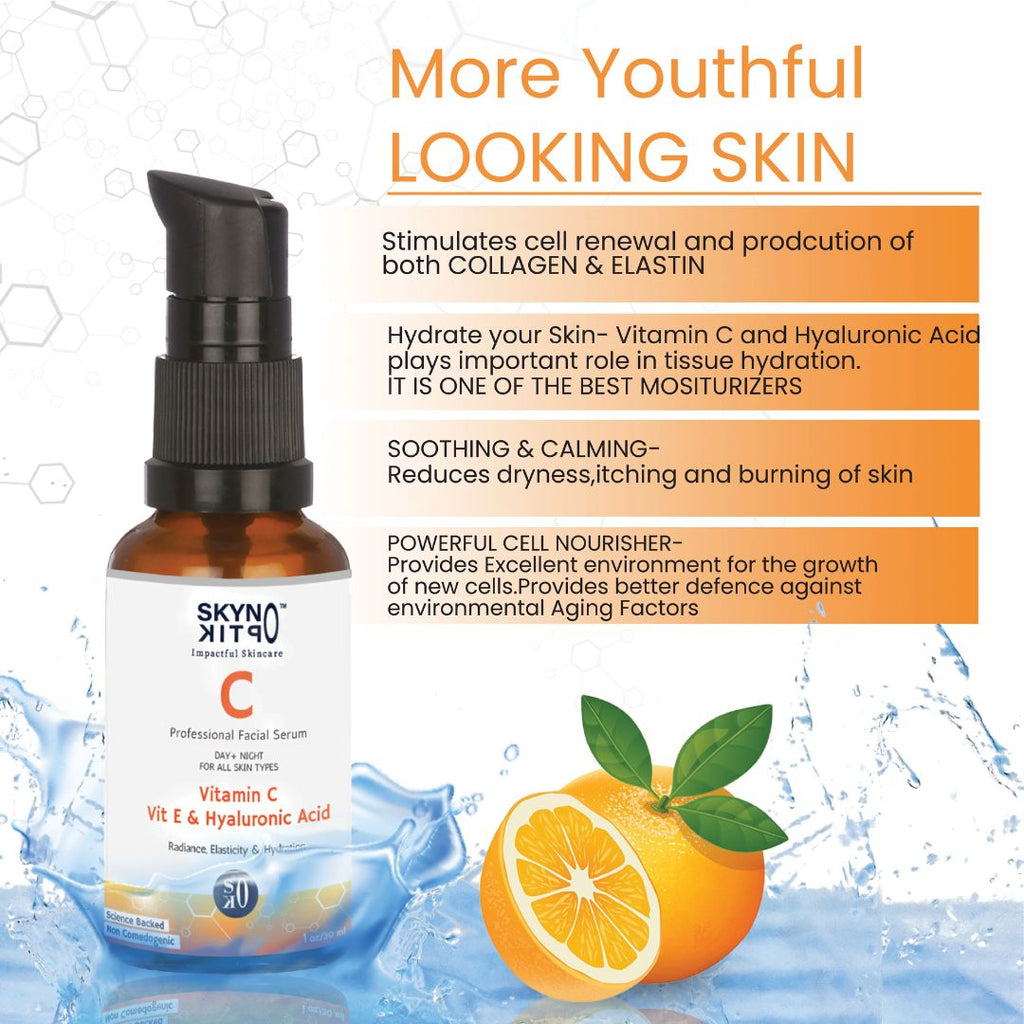 Introduction
Finding the right skincare product might feel like an elusive quest in the persistent pursuit of timeless beauty. Countless bottles cover the aisles, each claiming to be the secret to unlocking young skin and promising marvels. However, when it comes to renewal and brightness, one element stands out above the rest: Vitamin C. When it comes to Vitamin C serum, there is no better option than Skynoptik, the unchallenged pioneer in skincare innovation. The Best Vitamin C Serum from Skynoptik is a strong elixir that harnesses the power of nature's most effective antioxidant. This serum, which has a high concentration of Vitamin C, is intended to eliminate dullness, counteract symptoms of aging, and restore your skin's natural radiance. As Skynoptik's Skin Serum becomes your trusted partner in the struggle against time, you may say goodbye to wrinkles, fine lines, and uneven skin tone.
What Distinguishes Skynoptik's Vitamin C Serum from the Competition?
 Quality, purity, and effectiveness. Skynoptik takes pleasure in careful research and development to ensure that every drop of their serum provides optimum benefits to your skin. They use only the highest-quality, pharmaceutical-grade Vitamin C to create a lightweight serum that is readily absorbed by your skin. This means that each application packs a potent antioxidant punch, aiding in the neutralization of free radicals and protecting your skin from environmental stresses.
Say Goodbye to Lack Luster Skin and Hello to a Glowing Complexion with Vitamin C Serum!
 Skynoptik's Face Serum for Wrinkles is your key to looking younger. The Best Vitamin C Serum not only stimulates collagen formation, which helps minimize the appearance of fine lines and wrinkles but also brightens dark spots and hyperpigmentation. With regular application, you'll notice an improvement in the texture and tone of your skin and a renewed confidence in your beautiful reflection.
Vitamin C Serum - the Ultimate Skincare Weapon!
Skynoptik recognizes that skin care is not a one-size-fits-all product. As a result, their Vitamin C serum is designed to be suitable for all skin types, even sensitive skin. It's mild but efficient, so even the most sensitive skin may benefit from its transformational effects. The non-greasy composition immediately absorbs into your skin, leaving it moisturized, rejuvenated, and ready to face the day.
Don't settle for anything less than the finest when it comes to achieving youthful, bright skin. Skynoptik's Best Vitamin C Serum is the ultimate skincare weapon. Unleash its full potential to reveal a youthful complexion that resists the passage of time. Invest in your skin, in yourself, and let Skynoptik be your companion on the path to everlasting beauty.
Vitamin C Serum: Daytime and Night time Skin Benefits
 Because of its extraordinary skin advantages, Face Serum for Wrinkles has become a standard in skincare regimes all over the world. But did you know that the benefits of this mystical elixir differ depending on whether it is used during the day or at night? Let's take a look at the unique advantages of Vitamin C serum for both day and night time usage, and see how Skynoptik's Vitamin C Serum may take your skincare regimen to the next level.
Daytime Delight: Shielding Your Skin from Environmental Stressors
 Ø  Powerful antioxidant protection: Vitamin C serum provides powerful antioxidant protection by acting as a shield against damaging free radicals, which are numerous during the day owing to UV radiation and pollution.
Ø  Fades dark spots and hyperpigmentation: Reduces the appearance of dark spots, sun spots, and uneven skin tone: Applying Vitamin C serum on a daily basis helps to reduce the appearance of black spots, sun spots, and uneven skin tone.
Ø  Boosts collagen production: Vitamin C increases collagen synthesis, which leads to increased skin suppleness and firmness.
Ø  Reduces the appearance of fine lines and wrinkles: Best Vitamin C serum helps to minimize the appearance of fine lines and wrinkles by stimulating collagen formation, giving you a smoother complexion.
Ø  Enhances sun protection: While not a replacement for sunscreen, Vitamin C has been shown to increase the efficacy of sunscreens when used in conjunction. It adds another layer of protection against UV damage.
Night time Restoration: A Rejuvenating Journey for Your Skin
 Ø  Supports skin repair and regeneration: Vitamin C serum assists in the repair and renewal of the skin throughout the night, aiding in the recovery from everyday damage.
Ø  Evens out skin tone: Using a Vitamin C serum at night on a regular basis helps remove dark spots, hyperpigmentation, and acne scars, presenting a more balanced and luminous complexion.
Ø  Hydrates and nourishes the skin: Vitamin C serum hydrates and nourishes the skin, providing a plump and moisturized look.
Ø  Improves skin brightness: Vitamin C serum improves skin radiance by aiding in the exfoliation process and promoting cell turnover.
Ø  Provides antioxidant protection overnight: Vitamin C serum works to neutralize free radicals that collect throughout the day, preventing additional damage and fostering a healthier complexion.
You may maximize the advantages of Best Vitamin C serum by adding it to your daytime and nightly skincare regimens. This will give you a refreshed, glowing complexion. To achieve the best effects for your skin, choose a high-quality serum, such as Skynoptik's Best Vitamin C Serum.
So, What Are You Waiting For?
Skynoptik's Vitamin C serum will take your skincare regimen to new heights. Say welcome to skin that is smoother, firmer, and more radiant. Accept the power of nature's most effective antioxidant and let Skynoptik's Skin Serum change the way you age gracefully. Remember, beauty fades, but with Skynoptik, your glow lasts a lifetime.
Allow Skynoptik's Face Serum for Wrinkle's strong composition to take you to a realm of eternal beauty. Skynoptik - will elevate your skincare regimen and unlock the full potential of your skin.